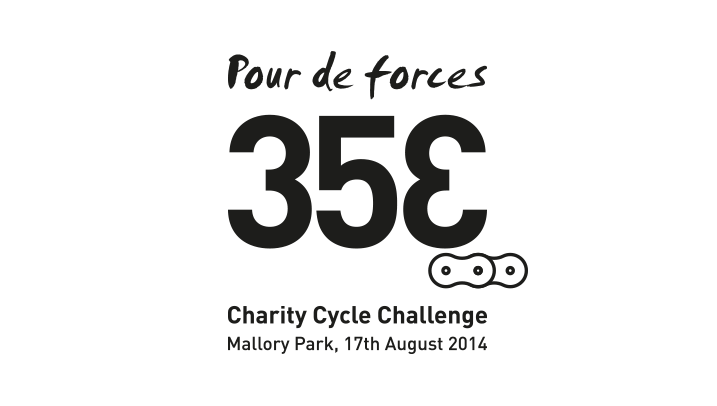 Pour de Forces
The 353 Cycling Challenge held at Mallory Park is set to be a day of fun and challenges for riders of all ages and abilities – and a great way to raise money for an important cause.
Set in the heart of the Leicestershire countryside, Mallory Park is affectionately known as the 'Friendly Circuit' for its more than helpful staff and a cafe that has acquired almost legendary status in the world of trackside catering. With beautiful lakes and the sloping green as well, this is the perfect place to get cycling – and get busy raising money for charity.
Plan for the day
10:00 Start
Noon Break
12:10 Restart
14:00 Lunch stop – feel free to bring your own or try the famous Mallory Park Cafe
14:45 Restart
16:30 Break
18:15 Finish
19:00 Party!
Competitions
There really is something for every level of cyclist with a variety of competitions throughout our seven hours of track time, including:
Furthest distance covered by a non-stop team (4 man / over 4 man)
Furthest distance covered by a relay team
Furthest individual distance
Fastest individual to cover 3.53 miles (2.5 laps)
Basically, our big aim is to complete as many laps as possible of the track during the 7 hours of track time we have. You can complete this as an individual, a non-stop team or as a relay team. And we'll be dishing out prizes graded for those 3 categories.
Entry
The cost is £35.30 per person – click here to access our Eventbrite page, where you can sign up for this event.
You can enter as:
An individual
A non-stop team of 4 or above
A relay team of up to 10 people
Our cause
353 is a charitable trust with the aim of helping members of the military community carry on with their lives. We provide long-term support to a variety of charities, soldiers and their families.
You are very welcome to raise money for either 353 or any other charity you support. Whatever you choose, let's get on our bikes and be a force for good.
Click here for the 353 BT giving Charity page.
Getting registered
Click here to access our Eventbrite registration page to sign up for this event.