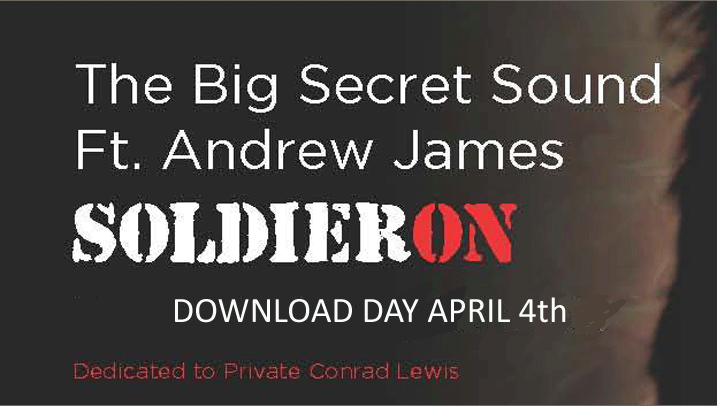 Soldier On – Download Day 040414
Keep Calm and Soldier On, Big Download Day
The Big Secret Sound featuring Andrew James released a single Soldier On in February 2014. Soldier On was written to commemorate the death f Conrad Lewis, a paratrooper and the 353rd service man to be killed whilst on service three years ago in Afghanistan, it also remembers the 447 service men and women who have lost their lives during the Afghan conflict
During early February the single was promoted by the band on radio and within schools and colleges which culminated in the single rising to no 91 in the charts, making national press – The Sun, Mirror and Sunday Telegraph and coverage on BBC1 The One Show.
During the promotion week, after an audience with The Big Secret Sound, Cameron, Courtney, Ellie and Claudia, students from Myton School in Warwick felt so moved by what they heard that they felt compelled to do more than just download the song. They wanted to use it as an opportunity to give young people the opportunity to support these causes and show their respect to service men and women across the world.
In their words 'We realised that we couldn't just move on from this and forget about it, there was too much emotion and feeling for that'. The result was that over the half term break they devised a plan and contacted Chris Onslow, the songs lyricist to ask him if they could work with The Big Secret Sound and embark on a unique and exciting way to raise awareness and provide much needed funds to military charities.
In particular the young people wanted to galvanise support amongst their own peer group by creating a campaign that appealed to likeminded people their own age. During the latter part of February the student and The Big Secret Sound worked on several ideas and decided upon a "Record Breaking Download Day".
The students from Myton School sought support from their Head Master to have a download day in their school. Other local schools getting downloading are North Leamington and Alcester Grammar, However there aim is more ambitious, they want to engage and motivate their peers throughout the UK to join their drive for a record breaking Keep Calm and Soldier On Download Day which will take in place in schools and colleges on April 4th 2014.
We would like to ask you to support the event, spread the word and create a record breaking download day. The campaign has now started with a Keep Calm and Soldier On download Day page on Facebook, https://www.facebook.com/keepcalmandsoldieron353 students are asking other students to use the model developed at Myton. The big idea is that 4th April will see schools around the country united in the cause, downloading Soldier On and remembering the 447 servicemen who have given their lives.
Contacts info@thebigsecretsound.co,uk
 Thanks to Martin and Stratford TV for all the support for "Soldier on".
Preview the single on YouTube.


Download this single on iTunes to help us recognise all those that have suffered in this war: